Hi Everyone, here we are going to give the details about how to create a Gmail account.
Summary:
How to create Email Id and how many types of Email Id
How to setup or create a Gmail Account on your computer / Laptop
How to create a new Gmail account by mobile number
How to Create a Gmail id without a phone number
How to Create Email Id :
Email is a mail that is transferred through the mode of Electronics. There are many email providers which are free as well as paid, the paid email services are mainly used for the business account. Read: How to Create a Business Email Account. But we all are mainly used the free email service, the types of free email service providers are Gmail, Yahoo, Outlook, Rediffmail, etc. are the most successful and most used emails in around the world.
Gmail is provider one of the best emails service which are easy to use, flexible and free to use. Gmail has both paid and free email service, but now we are going to see, How to Setup or create a Gmail Id from our computer or laptop or our mobile for free.
How to Setup or Create a new Gmail Account from our Computer or Mobile:
Creating a mail account is similar to a computer or mobile.
Steps:
Open any browser like Google Chrome or Mozilla etc.
Type mail.google.com in your browser and click Enter.
Click on Create an Account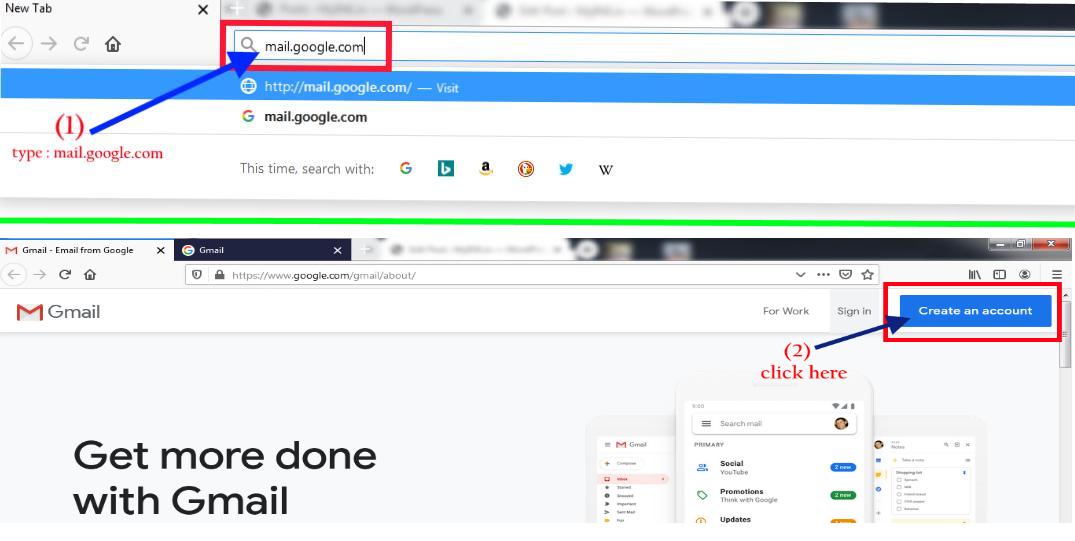 3. Fill your details
like your name,
next fill the username it is your Gmail account or Gmail Id, its unique for everyone. so kindly type and select as per the availability.
Password
4. then click Next
(see the below image for full details)
5. Enter your mobile number, (use a valid mobile number, a verification code will come)
6. after enter your number, click Next.
7. Enter the Verification Code (check your mobile).
9. Enter a recovery email id, if you have or leave it. it is optional.
Enter your details like Date of Birth and Gender.
10. Then, click Next.
(See the below pic for details)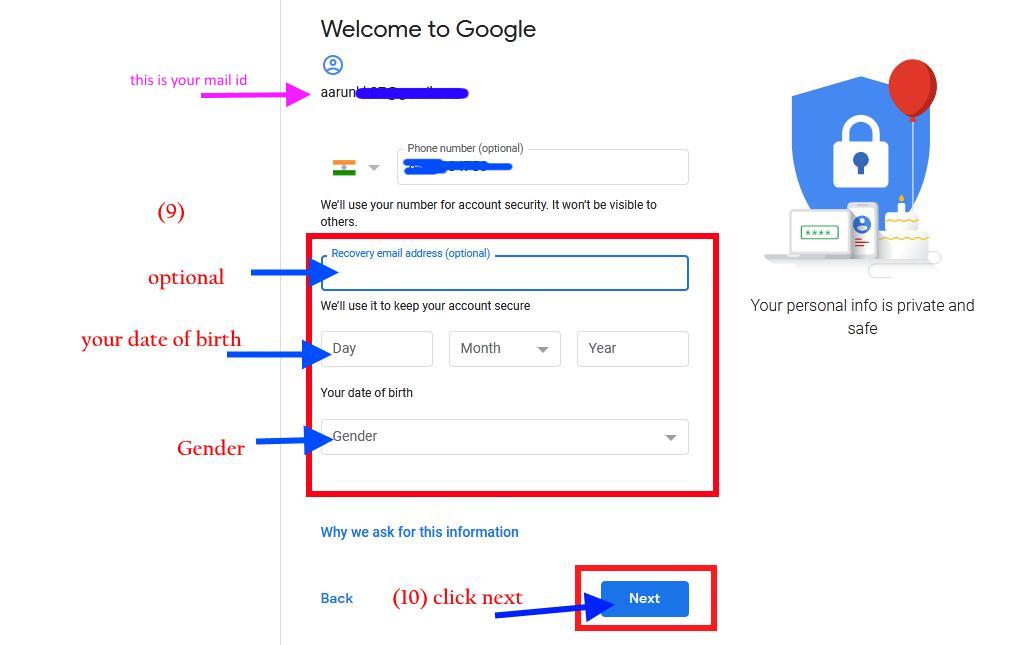 11. Now, on this page just click the skip option and you will be redirected to the next page.
12. In this page there is terms and conditions, go the bottom of the page there will be an option, I Agree, click  it
13. Now your Gmail id is created, you are at the main page of Gmail.
create a @gmail account