How to identify computer ram ddr1 ddr2 ddr3, DDR4 Identifying the Computer RAM (Random Access Memory) like DDR1, DDR2, DDR3, and DDR4 physically is not so hard if you follow the steps. updated for 2022
[updated: 2021]
Distance of Notch
Integrated Chip (IC) type
DDR1, DDR2, DDR3,  DDR4 is the most using RAM currently in the market.
First of all confirm is it DDR1, DDR2, DDR3, or Different  DDR's SDRAM. keep your DDR chip front-facing as given bellow. here look to the notch each DDR notch distance is different from others DDR. It's mentioned in the picture.
Also Read :
Distance of Notch
Notch Means above cuts Mark on RAM

DDR1, DDR2, DDR3 having Single Cut mark on the base of the RAM

But you can see the Cut mark (Notch) distance  (see below photo)

Notch of DDR1 and DDR2 are similar but if you see closely,

You can find DDR1 Notch is just above the IC and DDR
DDR2 Notch is just far to the IC

Notch of DDR3 is different from the other two.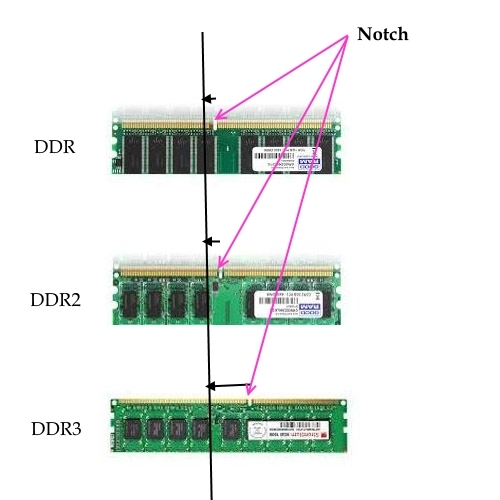 Integrated Chip (IC)

See the Above Photo

DDR3 having small and square type IC.
DDR2 is just bigger then DDR3 and smaller the DDR1,
In this case, too, DDR1 and DDR2 are just a small difference

IC in DDR1 are touched both top and bottom of RAM
and IC in DDR2 is just center of the RAM
Number of Pins in DDR1, DDR2, DDR3, DDR4
Voltage of RAM

The voltage of RAM cannot be used for the Physical finding of RAM, but it can be used to place the RAM in the Motherboard Slot. (voltage are written in the RAM Slot of Motherboard)
Click to Buy Best DDR RAMs  for Desktops
Click to Buy Best DDR RAMs  for Desktops
identify computer ram ddr1 ddr2 ddr3