Tata Docomo Online Recharge is very simple use and recharge, using it you can recharge, check offers for you and check your Full Talktime and Extra Talktime.
How to Recharge my Mobile Using Tata Docomo Online Recharge Web Portal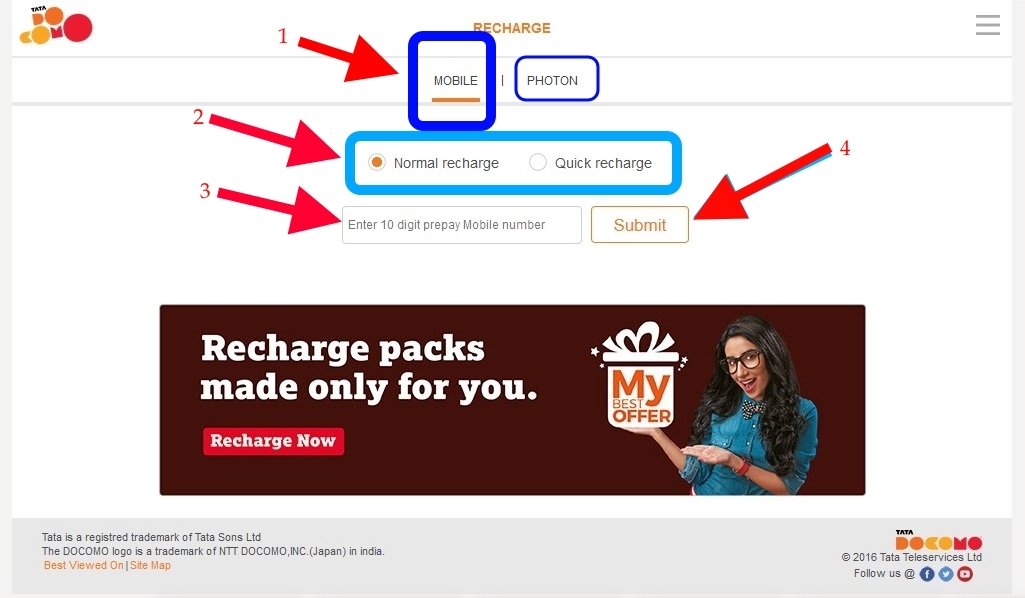 Log on to Website https://recharge.tatadocomo.com/ORPortal/start
Select Mobile or Photon (photon for Tata Photo Data Recharge),  I am going to Recharge my Mobile using this Tata Docomo Online Recharge Website, So i will select Mobile (see: arrow 1)
Then i have to Select[Normal Recharge or Quick Recharge], I select the Normal Recharge.
Next I Enter the Tata Docomo Mobile Number (see :arrow 3)
and Submit it to check Full Talktime / Data Recharge / Tariff Packs.
Then the page will Redirected and you will see like the below pics……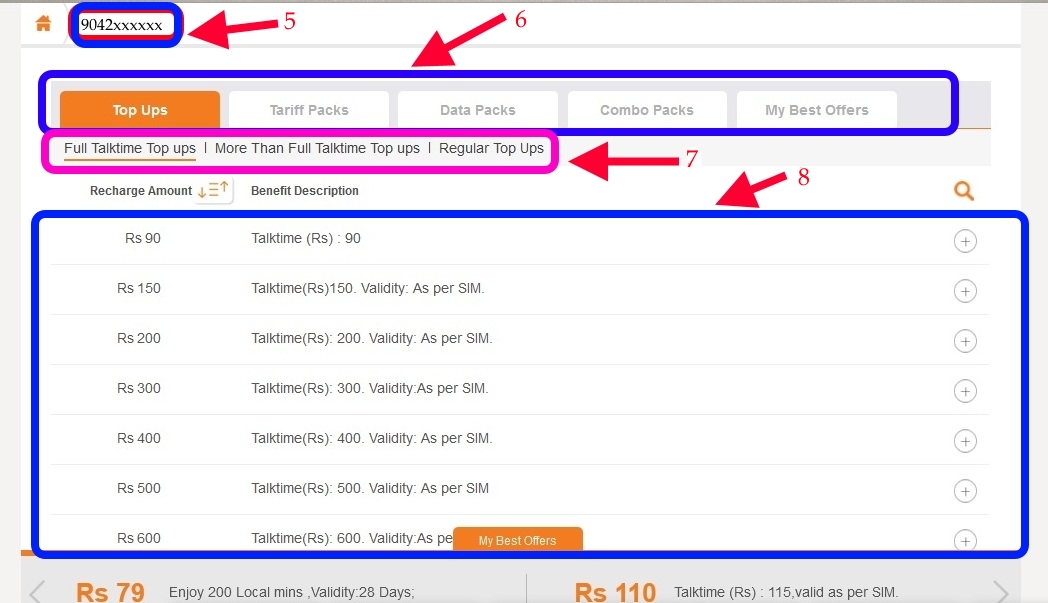 Check our Mobile which will be show on the top of the website (see:arrow 5)
Now select the option of Recharge like [Tops up, Tariffs Packs, Data Packs, Combo Packs etc.] (see:arrow 6)
You will see like Full Talktime, More than Full Talktime, Regular Top ups (see:arrow 7) which is under Top Ups Option, we have to select one of it.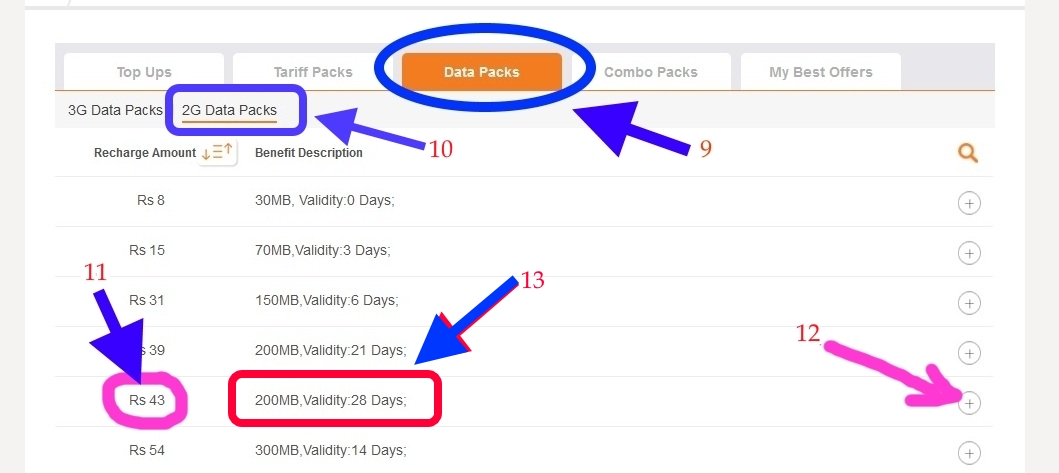 Now we are going to Recharge Data Pack for my Tata Docomo Mobile .
So we Select Data Packs (as you see in Arrow 9).
Now we have to decide which pack 2G or 3G , Now we are selected 2G Data Packs (ass you see at Arrow 10)
And i want to recharge for Rs 43 which has the benefits of 200 MB with 28 days validity
Click against the recharge Pack (as you see at arrow 12) for see the details of pack.
Click on the Pack details for Payment (see arrow 13)
How to Pay to Complete My Recharge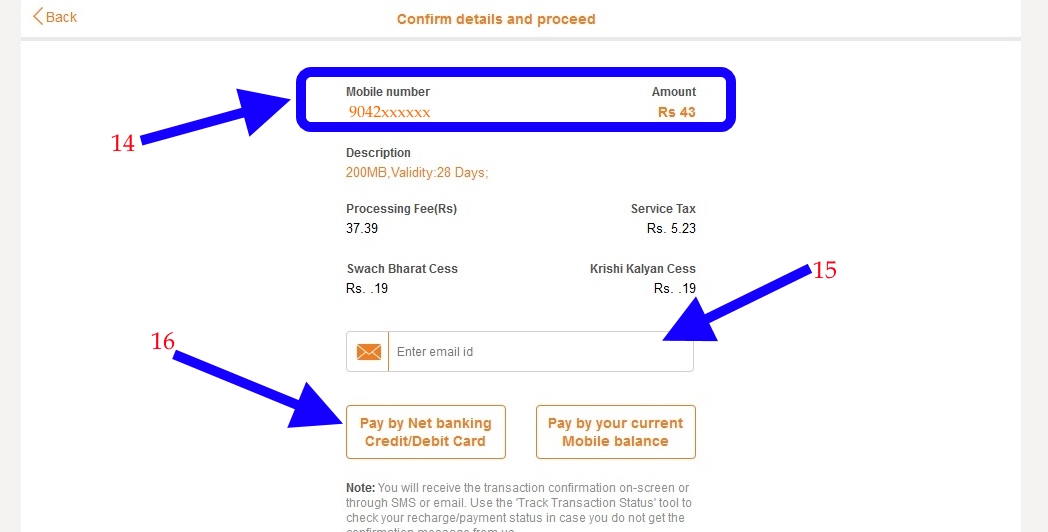 Kindly Confirm Mobile Number and Amount of Recharge before pay (see at arrow 14).
Enter your eMail ID, if you want confirmation and successful recharge mail. without eMail also you can process (enter eMail Id is Recommended).
You can pay using Internet Banking, credit or Debit card, otherwise using you main balance of the Same mobile number (You can use Pay by your current mobile balance except Top Up recharges).
I am going to pay by Net Banking so click on in (see at arrow 16)
Page will be redirected to the payment section as you see below: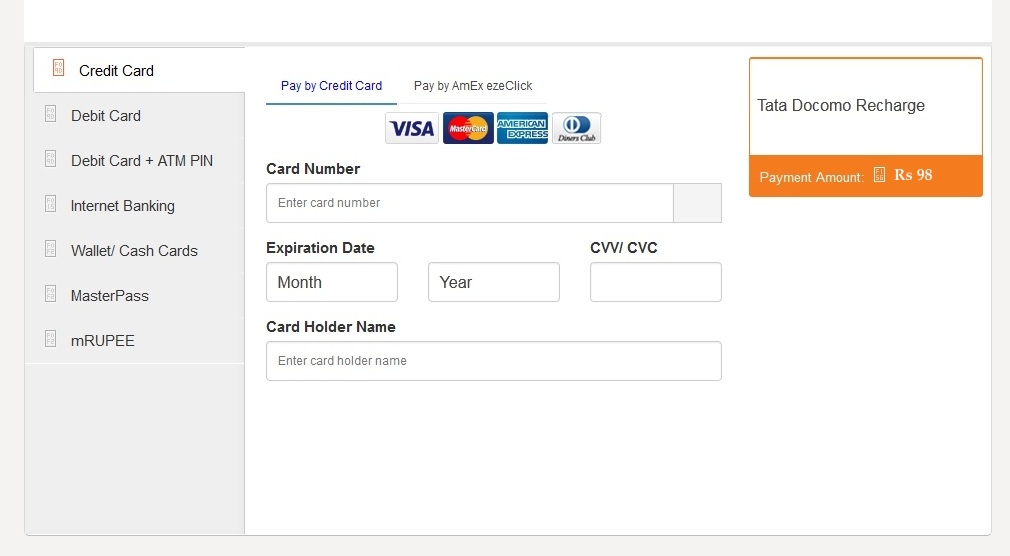 Finally, you have to select one of the option of Payment
You will confirmation of successful recharge and Payment.
How to Check Full Talktime and Extra Talk Time using Tata Docomo Online Recharge Web Portal
As  we already told (see arrow 6) Click on the Top Up option
then you (see arrow 7) you can select Full Talktime or More than Full Talktime Option.
You can Select and Pay as we did in the above.