Bsnl Online Recharge using Bsnl Portal / QuickPAY and you can also check your Mobile Balance and Validity using this Service.
you can use this service for any Bsnl Prepaid Recharge like
GSM Mobile
CDMA / Evdo Mobile
Prepaid Landline
Check any Bsnl Prepaid Mobile balance
How to Bsnl online Recharge for

Prepaid Gsm Mobile

using Bsnl Portal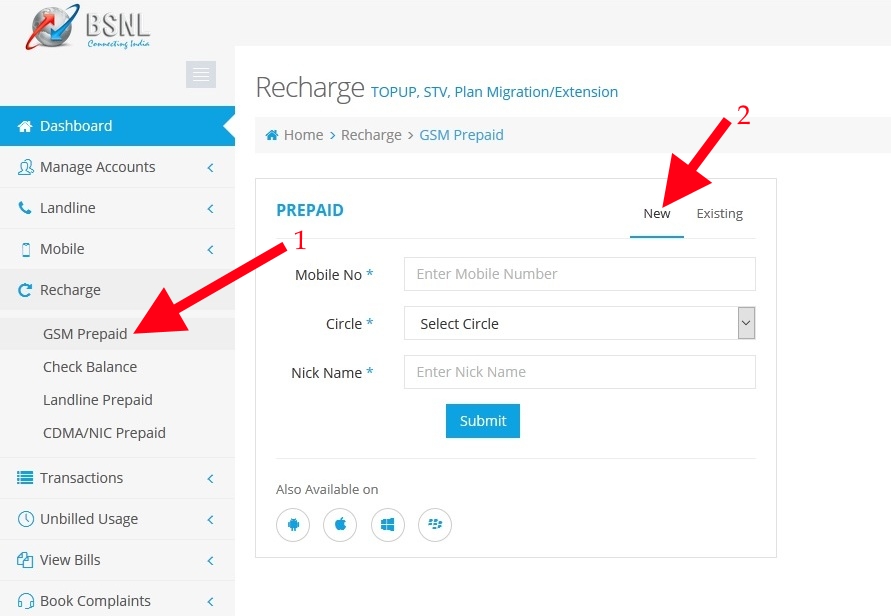 Step 1: – Click Recharge option (which is on the Left Side) on the Dashboard,  under the Recharge you will see Gsm Prepaid Click on it.
Step 2: – If you doing for the first time then you don't have numbers in the existing option, so click on NEW
Step 3: – Now fill the Mobile Number Select your Circle and give a nickname (Nick Name could be any name).
Step 4: – Click the SUBMIT button.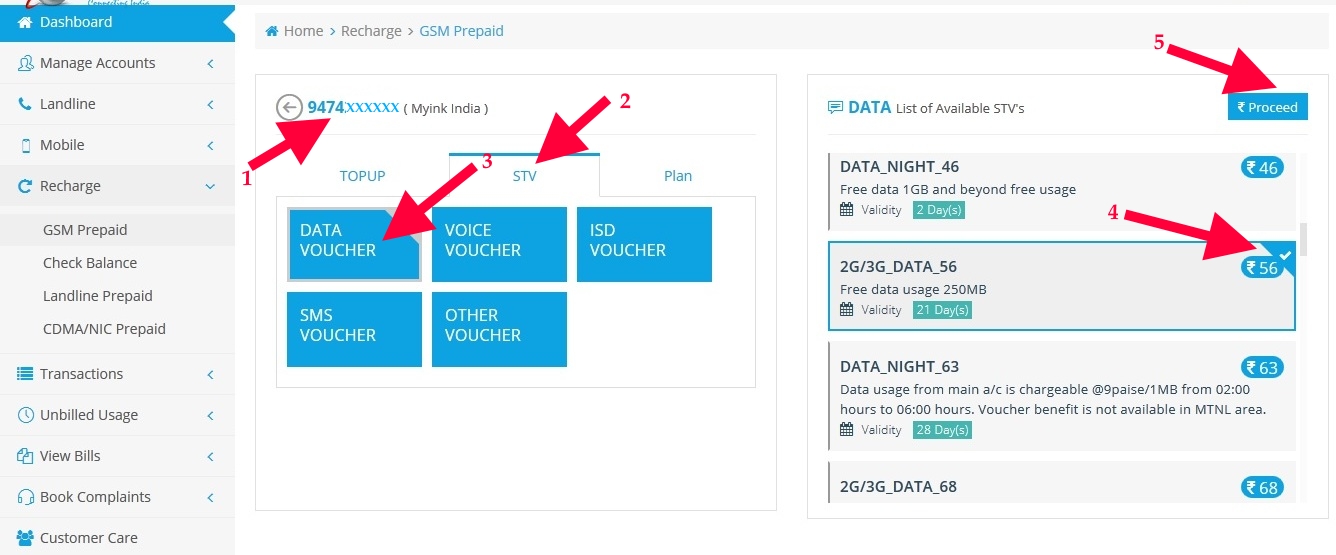 Arrow (1) denotes the mobile number for what you are going to recharge confirm it.
Step 5:- Select  your Recharge as a TOP UP or STV (Special Recharge like SMS, Data, etc) or Plan (plans for Validity recharge) [as I did in arrow(2)]
Step 6:-  as Arrow (3), you should select the voucher, after that for your recharge amount see an arrow (4).
Step 7: – After that check, your amount and number then click PROCEED (arrow 5),
You will be redirected to the Payment Section.
BSNL PORTAL PAYMENT PROCEDURE

After redirected to the payment section the page will look like this with two Steps 1 & 2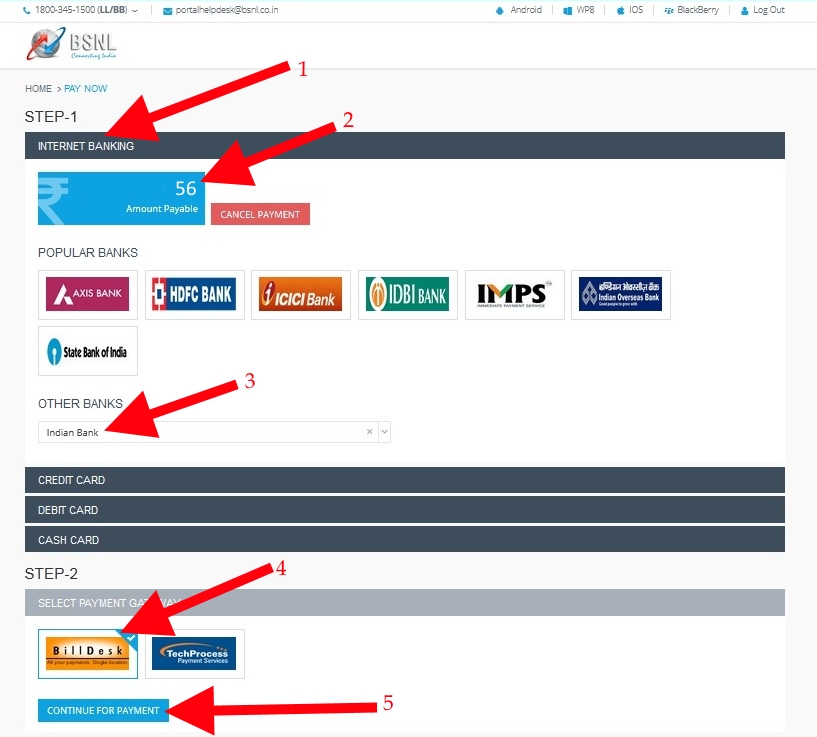 Step 8:- on STEP 1 of Payment Option you must select a method of Payment like Internet Banking, Debit Card, Credit Card or Cash, I will Select Internet Banking (arrow 1)
Step 9: – Check the Payable amount is it correct or not. (arrow2)
Step 10: – Select your bank if it available outside then select it there otherwise select from the list (arrow 3),
okay I will select Indian Bank.
Step 11:- Next come to STEP 2 of Payment option (see arrow 4), you must select Billdesk or TechProcess both are payment gateway, you can select anyone.
Step 12:- then click CONTINUE FOR PAYMENT (arrow 5)
after that if you select debit card / Internet you must do it like all other payments.
after successful payment, 

you would be redirected to Bank Portal and you will get Confirmation.

Otherwise, you can check the Transaction option on the Dashboard for Check it.
How to

Check Bsnl Mobile Balance and Validity 

using Bsnl Portal (Bsnl online Recharge)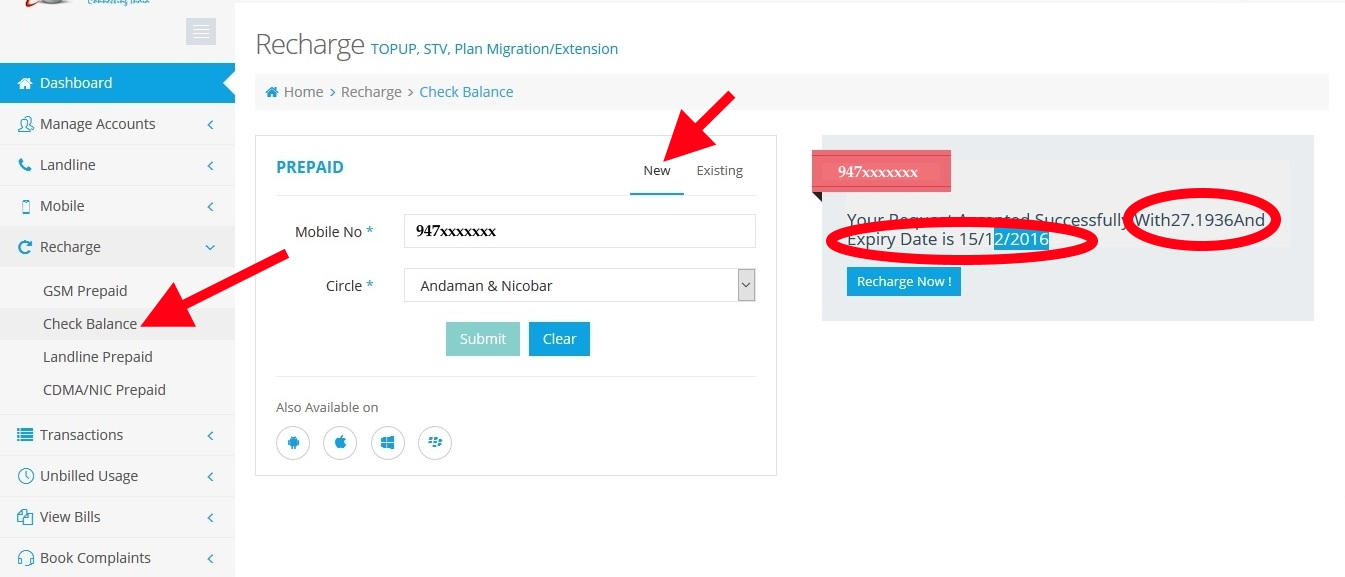 Click on CHECK BALANCE which is under the Recharge option (Left Side Bar).
Click on NEW, if you don't have existing any numbers.
Fill in the Mobile Number and Select your Circle against the respective columns.
Check Submit,
You will get the Balance and Validity on the Right Side of the Bsnl Portal page with your Mobile Number.
bsnl online recharge | 2022